Benefits of Franchise Ownership
What Is A Franchise?
Before we get into the benefits of franchise ownership, let's talk about what a franchise entails, and the differences between franchises and small businesses. 
A franchise is a method of distributing products of services under a well-known and established brand name. Franchises begin with an agreement between the franchisee (owner) and franchisor (existing business) that the franchisee will provide the goods and services licensed by the franchisor under their trademark and business system and proven business model. 
(When inquiring into franchise ownership, it's recommended to work with an already-established and well-known business and brand! This will ensure your franchise is more successful.)
When owning a franchise, you are capitalizing on that brand, and their existing success. The hardest part has already been done – creating a business with a successful model that is turning a profit and has brand recognition. A franchise is an opportunity to capitalize on a business' proven success, in your territory. 
How Is A Franchise Owernship Different Than Sole Proprietorship?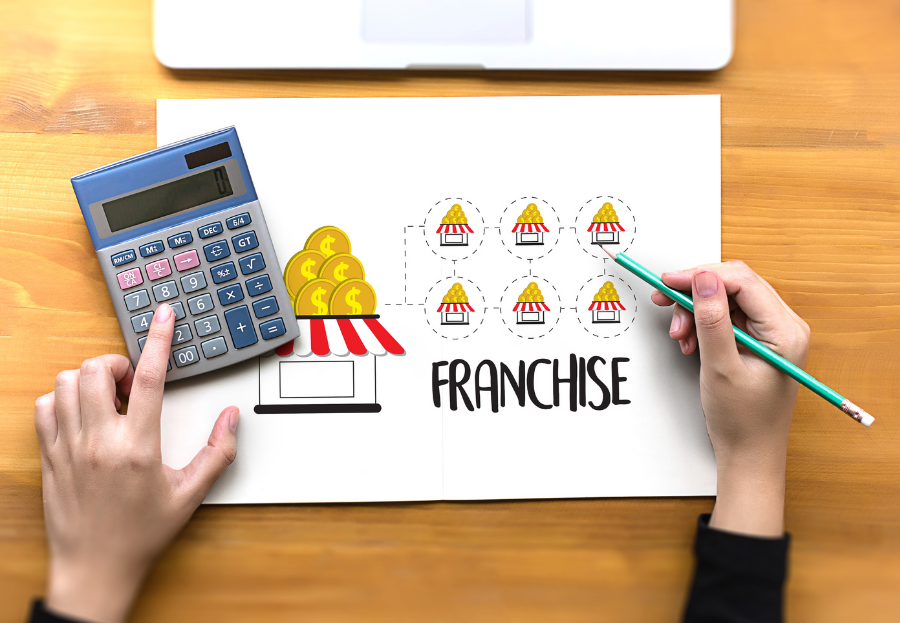 A sole proprietorship is when you are operating a business under your name, trademark, or fictitious trade name. A franchise ownership is operating under the trademarked name and identity of the franchise. The benefit of franchise ownership is the name recognition which comes along with operating under the umbrella of that corporation. 
Advantages to Purchasing A Franchise
Jump into a successful business model:


Franchise business models are built upon successful tried and proven tactics that work. An unsuccessful business model will not have the capital to invest in additional individual franchisees and locations, and when this is done improperly, it hurts the brand as a whole. When a company offers franchises, it is done only because that business model guarantees success. 
Business assistance:


An individual franchise replicates the success of the company as a whole, using the tactics and business knowledge that gave the company its initial success. When it comes to franchise ownership, you receive all of that knowledge, support, and assistance in running your business. 
Profits:


The profitability of a business is synonymous with brand favorability, recognized value propositions, and trust derived from a proven track record of success. Therefore, the more established your considered franchise is, the more profitability guaranteed. 
Continual support:


With a franchise ownership you have at your disposal at any given time, a team of industry experts and knowledge on how to operate your business – anything from accounting support, to marketing support, to mentorship in guaranteeing success. Remember that the franchisor depends on the individual franchisees thriving as well – the franchisees performance affects the overall brand, so your franchisor should always be on your side and at your disposal for continual support. 
No experience necessary:


Because all of the training is provided for franchise ownership, there is no need for experience. There should however be a given interest in the field of choice that the franchise falls under, as you will be expected to have industry knowledge once the training has been provided. If you purchase a restaurant and have no interest in cooking, chances are your success rates will be below average. 
Work your own hours:


Freedom! Your franchisor will not tell you when to work, or how many hours to put in. However, during the initial startup phase of opening your franchise, it is recommended that you put in proper hours. Once your location is established and employees hired, put your feet up and relax!
Safety in numbers:


Safety in numbers when it comes to franchise ownership means that you are welcomed into a team of like-minded individuals all with the same common goal. You create a community of franchise owners. 
Examples of Successful Canadian Franchises
| | | | | | |
| --- | --- | --- | --- | --- | --- |
| | Tim Hortons | Proper Measure | M&M Meats | Freshii | Liberty Tax Service |
| Initial investment | $60,000 – $665,700 | $29,900 – $38,000 | $400,000 – $500,000 | $170,000 – $470,500 | $34,200 – $64,400 |
Upon first glance, these businesses should all be familiar to you, or the company names recognizable. These are five of the most successful Canadian franchises available for purchase. Notably the prices for the initial investment vary between these franchises, depending on the type.
Tim Hortons: 
The quintessential Canadian coffee corporation. The company that coined the phrase 'double-double' (which has translated in popularity across all coffee shops). Tim Hortons' name has become synonymous with many Canadian pastimes such as hockey, or recognized by their Roll Up The Rim event, or associated with their Camp Day donations. There's no doubt that Tim Hortons has done excellent with their branding and recognition. The investment cost for a Tim Hortons franchise runs from $60,000 for the initial investment, to upwards of $655,700 after the land purchase and/or lease, and operating costs. This makes Tim Hortons an expensive franchise, though the umbrella of their brand success guarantees an eventual return on investment. 
Proper Measure:
For nearly 20 years, Proper Measure has been providing real estate marketing services across Canada. Understandably during the country's surge in property values, sales, and new development builds in the last decade, the service offered brings infinite value to real estate agents, and value to the company itself. The entry fee of $29,900 is nominal in cost comparison to other Canadian franchise giants, and the return on investment takes less time. There is no land lease requirement, as the work is mobile and an office can be set up from home, or anywhere. This is extremely beneficial in reducing operating costs. 
M&M Meats:
This company provides the utter convenience of pre-packaged and healthy meals to Canadians across the nation. M&M Meats locations can be found in most cities and if you've ever walked into one, you know it's a veritable paradise of meat-filled meals, and easy-to-cook appetizers at affordable price points. The investment price is steep into this company, with a slower return on investment. Though the products may have a higher price point than a Tim Hortons coffee, the investment into the land lease, initial products, and franchise startup fees are great. This is not to say that M&M Meats is not a profitable business, just that the overhead costs are quite high. 
Freshii:
It's hard to deny that there has been a shift in the recent years in the way that Canadians are consuming food. In 2005, Matthew Corrin (who was 23 at the time), opened the first Freshii restaurant. Freshii's business model is built on the convenience of healthy and affordable food, chock-full of vegetables. The 'fast-food' health food franchise now has upwards of almost 500 locations across Canada within the last 15 years. The fees for opening a Freshii franchise range from $170,000 – $470,500 and include the franchise fee, startup costs and food investment, training, and land lease. With the ever-growing trend of health interest in Canadians, Freshii investments are fairly guaranteed to generate a profit. 
Liberty Tax Service:
You may be asking yourself – why the lower investment price? Starting at $34,200, an investment into Liberty Tax Service looks to be too good to be true. These independent locations don't require an office or physical location – which makes owning one of these franchises much more cost-effective. The franchise fees cover the training and programs needed. Tax services are essential across the country and Liberty Tax Service is guaranteed a return on investment. Unfortunately, most tax services are also seasonal. 
Is A Franchise Ownership Right For Me?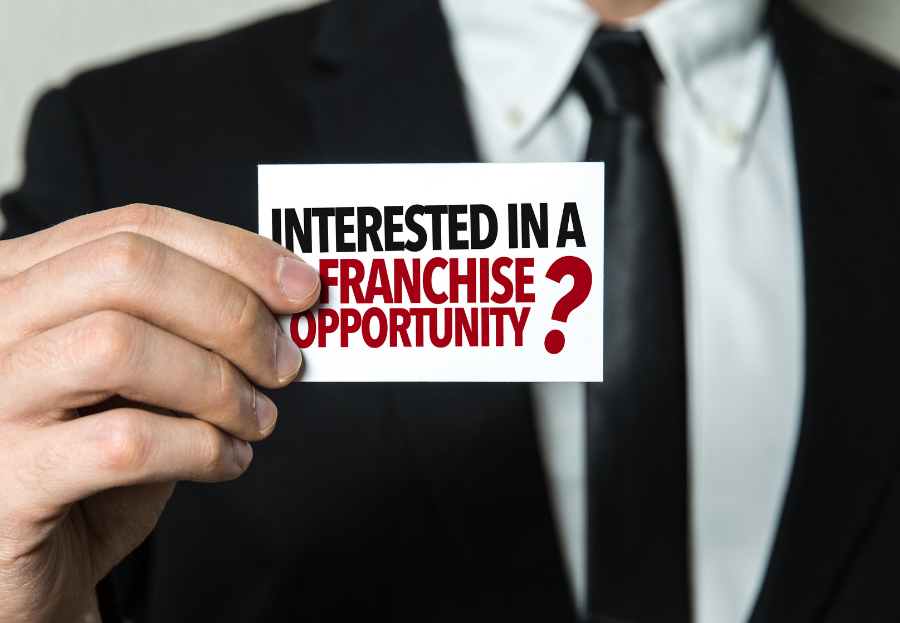 As with any business, it takes a certain amount of drive and dedication to run a franchise. There are certain people who are more adept to business ownership than others. Generally these people encompass the same scope of traits: 
Entrepreneurship
Leadership
Independence
Passion
Confidence
Operating a franchise has the benefit of the existing business model and as stated above, is notably easier most times to jump into a successful business by purchasing a franchise. However, like any business, operating a franchise takes hard work and dedication. There must be a desire, and a drive to succeed. 
Ready To Open Your Own Franchise?
Contact us today to learn about our exciting franchise opportunities.