Residential Measurement Standard Requirements for Calgary Real Estate 
What Is the RMS (Residential Measurement Standards)?  
The Residential Measurement Standards is the Alberta real estate standard that outlines the codes and conducts for all Alberta real estate listings to ensure full transparency for buyers in the Alberta real estate market. All Alberta realtors must adhere to the outlines of the RMS when listing real estate. 
Why Was the RMS Established? 
The RMS (Residential Measurement Standard) was established in order to give all consumers fair and accurate measurements for their property listings, whether they were buying or selling a residential or commercial property. This is so they can be sure the property will be suitable for their needs. By adhering to the RMS, all property sizes are easily verified to avoid any discrepancies. 
In 2016, a CBC investigation discovered that a Calgary woman's property was 20% smaller than it was originally advertised, prompting new guidelines for real estate measuring to be devised for complete accuracy when representing the sale of homes and commercial spaces in Alberta. 
The easiest way to avoid any potential discrepancies in real estate measuring for your Alberta listings is to hire a professional measurement company. It's important to use a real estate measuring company that is also E&O (Errors & Omissions) insured. 
Property Sizes and Measurements Formulas for the RMS
RECA (Real Estate Council Alberta) has provided an excellent tip sheet for calculating floor areas for the RMS. This sheet provides basic mathematical equations to take into consideration when measuring floor plans in Alberta.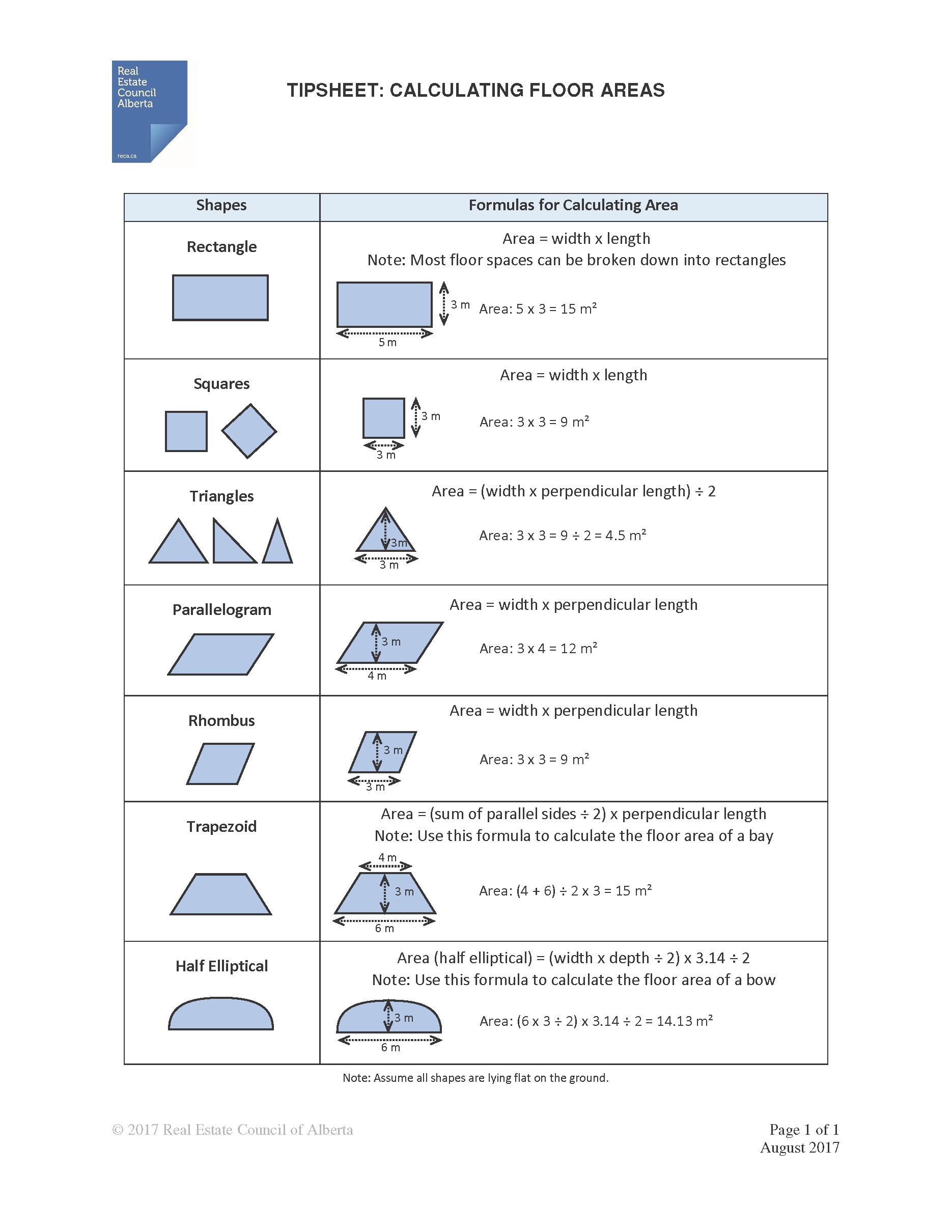 Alberta RMS Principles
Here's a quick crash course in the basic RMS principles used for real estate listings in Alberta:
(Note – the following content provided by RECA's website)
Real estate professionals must use the RMS. 

Identify if the measurement system is metric or imperial, and apply it consistently. Measurements must be calculated to within 2% of the RMS size. 

For detached properties, measure the property using the exterior wall at the foundation. 

For properties with common walls, such as half-duplexes, townhouses, and apartments, measure the interior perimeter walls (paint-to-paint) at floor level. An additional area representation may be made assuming exterior measurements. 

Include floor levels that are entirely above grade and exclude floor levels if any portion is below grade. Below grade levels may be measured, but the area must not be included in the RMS area. 

Include all additions to the main structure and conversions of above grade areas within the structure if they are weatherproof and suitable for year-round use. 

The property must have a minimum floor-to-ceiling height of 2.13 metres (7 feet). If the ceiling is sloped, the area with a floor-to-ceiling height of at least 1.52 metres (5 feet) is included in the RMS area, provided there is a ceiling height of 2.13 metres (7 feet) somewhere in the room. 

Include extensions from the main structure that have a minimum floor-to-ceiling height of 1.5 metres (5 feet), such as cantilevers, bay and bow windows, and dormers. 

Exclude open areas that have no floor, such as vaulted areas. 
Residential Measurement Standard Compliance in Alberta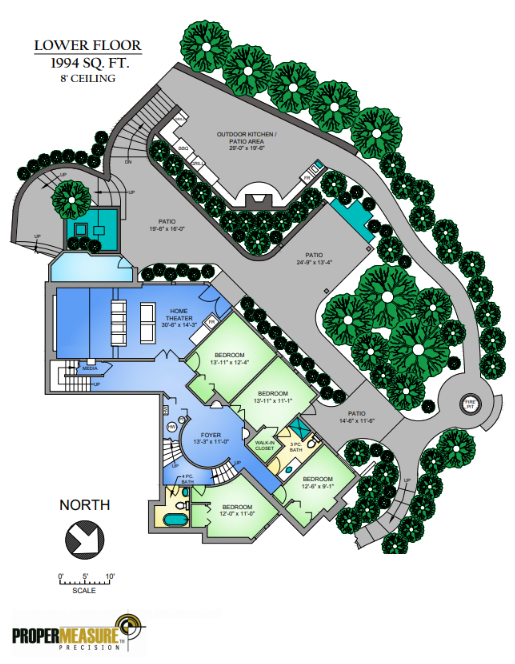 It's easy to make sure that your Alberta listings adhere to the guidelines set out in the Residential Measuring Standard document, when you're working with a reputable floor plan measurement service. Here are a few quick questions that Alberta realtors may have when not familiar yet with RMS policies:
Q: Do I Have To Measure the Property Myself? 
Absolutely not. It's recommended to use a third-party floor plan measuring company to ensure precision. 
Q: Can I Use A Previous Floor Plan Measurement For My Listing?
No. To ensure accuracy in listings, it's important to conduct updated measurements for your listings. It's entirely possible that that property has undergone renovations, and any floor plans on file may no longer be accurate. 
Q: How Do I Measure Properties Compliant With the RMS?
RMS compliant measurements are dependent on the type of property which is being measured. For example:
Detached properties are measured using the exterior foundation walls. 

Attached properties are measured using the interior perimeter walls, at floor level.
Attached properties include: half-duplexes, townhouses, and apartments.
Detached properties include: fully detached band land condominiums. 
Here's a full list of Frequently Asked Questions about the RMS. 
How Do I Add More Value My Alberta Real Estate Listings?
Find a reputable floor plan measurement company. 
Ask yourself: how do you know your floor plan measurements will be accurate? Seek out floor plan measuring companies in Alberta using trusted technology. Skip the old tape measures. 
Add a 3D Matterport tour.
When it comes to real estate, we all know that the market is on a continued upswing, with no signs of slowing down. However, it's easy to make your listings absolutely shine and sell quicker than before, by using a 3D Matterport tour. The always-open house allows your buyers to view listings at their leisure. 
Use high-quality real estate photography services.
The quality of the photos affects the value of your listing. You want to make sure that you're working with a trusted professional real estate photographer. 
Proper Measure Calgary Real Estate Measuring Services Compliant With the Residential Measurement Standard
If you're looking for a one-stop shop for all of your real estate marketing services in Calgary (Matterport, floor plans, real estate photography and more), contact Proper Measure Calgary today, or fill out the form below to request a quote for your desired https://inbounddestinations.com/situs-judi-slot-terbaik-dan-terpercaya-no-1/ services. We've recently teamed up with local real estate photographer Brendan Harris, to give you the full package deal of services to make sure your listings are both RMS compliant, and stand out above the crowd. 
Proper Measure Calgary adheres to all RECA (residential) and BOMA (commercial), rules and guidelines. All services are E&O (Errors & Omissions) insured.