Matterport 3D Cameras – Today's Hottest Trend in Real Estate Photography
Imagine how great it would be to offer your sellers a stress-free, 24/7 open house. Or your buyers a home tour without having to leave the couch. Introducing Matterport – 3D tour technology, using a 360-degree camera. Now your sellers can enjoy a virtual real estate tour of their dream listing, at any time.
If you're a realtor, you know buying and selling a home can be a nerve-wracking and time-consuming time for your clients, especially if they're juggling work and families, travel frequently, or live out of town. When you find a solution that saves everyone's time and energy on viewings, you've got a win-win solution.
Until recently, online photos and video tours were most often the first "step through the door" for potential homebuyers. But these graphic depictions rarely paint the full picture.
Welcome to Matterport® and the world of 3D photography for real estate.
Matterport Cameras For Real Estate and 3D Photography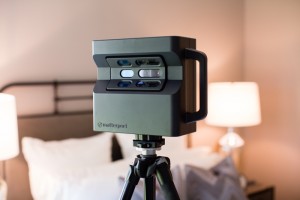 3D photography is fast becoming one of the hottest technological advancements in real estate marketing today. A virtual tour immerses your buyers in the viewing experience, helping them narrow down their search to find the home of their dreams that much faster.
From practically anywhere, buyers are able to walk through every room, and unlike watching a typical flat picture real estate listing, they get a true feel for both size and scale and of how their furniture, treasures, and artwork will fit in.
Compatible on all devices, Matterport® is an engaging way for people to view homes on the market. From the comfort of their own home, your buyers can narrow down their search and find the home of their dreams that much faster. And for sellers – it's a 24/7 open house!
Real estate agents are winning more listings with Matterport®. It's noisy out there, but with 3D viewings, your listings are set apart. Modern, enjoyable, and memorable for your client; it's also an efficient and cost-effective way for you to show homes.
What Are The Benefits of Using A Matterport Camera For Real Estate?
The benefits of highlighting your listings with a 3D tour are endless when it comes to successful real estate. Let these statistics speak for themselves:
If you believe it's mostly millennials using the Internet for their buying decisions, then listen to this: according to a 2019 study from the National Association of Realtors Research Group, 93% of ALL home buyers use online websites when searching for their next purchase.
Bring Value To Your Listings Using Matterport
Matterport cameras bring infinite value to your real estate listings. Matterport 3D scans are cost-effective ways to advertise slot online yang sering kasih jackpot every detail of your listings and allow potential buyers to enjoy a virtual walk-through of a house at their own leisure – and command the experience on their own. Matterport technology is revolutionary when it comes to modern real estate, and in an ever-growing real estate market, an asset that sets realtors apart. Learn how Proper Measure can increase your leads and sales by using Matterport 3D camera technology for your real estate listings.
Proper Measure Real Estate Marketing Services
Our company has been in operations since 2007 and has become a leader in Canadian real estate marketing through our innovative technology and impeccable customer service built on long-lasting relationships with realtors across Canada. We have a proven track record of success when it comes to advertising your listings.
Let your listings sell themselves. Contact us today for a quote on your listing, and learn the difference a 3D Matterport tour can make.
Interested in Franchise Ownership?
Have you ever wondered what it would be like to be your own boss? Proper Measure offers franchise ownership opportunities across Canada. Learn AutoCAD drafting skills, and receive full Matterport training. Franchisees receive a complete training course held in our head office in Victoria BC, and continual marketing support from our head office. Submit your resume, and join the Proper Measure team today.