How CAD Makes Re-Designing Easy: Designing IS Re-Designing
How CAD makes your re-designing easy: You've decided on the perfect design for your dream home, but then the questions begin. Should you add a garage? Finish the basement? Allow extra space for a growing family? After factoring in all your changes, you think you're all set, but then the government implements a new zoning requirement, and it's back to the drawing board – literally!
Architectural RE-designing could be expensive and time-consuming UNLESS you used Computer-Aided Design (CAD) software to develop your building plans.
What Is CAD and How Does It Help With Re-Designing?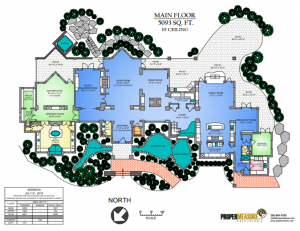 CAD is a computer-aided tool for creating drawings that permit architectural designers to generate, modify, and analyze plans for an array of objects, including residential homes and commercial buildings. These technical illustrations contain the square foot measurements, elevations, and other data that contractors and builders rely on to translate your abstract vision into the home of your dreams.
Computer-aided designing makes design changes easy without the dangers judi slot online jackpot terbesar associated with "redlining" or handwriting over original documents. Because CAD allows a colourful view from any desired angle, it will enable you to become immersed in the space in a way that's not possible by viewing a flat, black, and white floor plan alone.
If you're a builder or selling a project that is under construction, imagine the benefits of allowing your buyers to experience the finished space before purchasing. Besides gaining a deeper appreciation of the property, they'll make an emotional connection as well.
How Do We Use CAD For Re-Designing?
At Proper Measure, we set the industry standard with on-site drafting using AutoCAD – a commercial CAD software application. We bring colour and texture to your design vision. Not only does our software differentiate the living spaces inside your home, but it allows you to "smell the roses" outside with vivid landscaping details.
Your construction drawings or blueprints can be converted in virtually any judi slot online file format, and if you are working off old blueprints, sketches and floor plans, we can convert them, too. We're here to make your floor plan process and drafting easy for you.
Proper Measure Real Estate Marketing Services
Our company has been in operations since 2007 and has become a leader in Canadian real estate marketing through our innovative technology and impeccable customer service built on long-lasting relationships with realtors across Canada. We have a proven track record of success when it comes to advertising your listings.
Let your listings sell themselves. Contact us today for a quote on your listing, and learn the difference a 3D Matterport tour can make.
Interested in Franchise Ownership?
Have you ever wondered what it would be like to be your own boss? Proper Measure offers franchise ownership opportunities across Canada. Learn AutoCAD drafting skills, and receive full Matterport training. Franchisees receive a complete training course held in our head office in Victoria BC, and continual marketing support from our head office. Submit your resume, and join the Proper Measure team today.