How To Use Matterport For Your Retail Business
Have you ever considered the benefits of using Matterport for your retail business? Or are you wondering what a Matterport camera is?
Quick breakdown: Matterport technology is a 360-degree camera that stands in motion and captures a short video of its surroundings. This takes roughly between 30-60 seconds. Afterwards, a qualified Matterport technician pieces all of these videos together and provides you with a virtual tour. This tour can be controlled at home with your fingertips! While Matterport tours have become wildly popular in real estate listings, the tours have a great application when it comes to retail businesses as well.
Benefits of Matterport For Retail Businesses
Retail business foot traffic dropped exponentially with COVID-19. All around the world, the retail business industry suffered, and business owners have had to adapt by limiting customers, reducing hours, or offering deliveries. If any of these has affected your business, you may want to consider the benefits of using a Matterport tour for your retail business. Let's take a look at the different ways Matterport can increase your sales. 
Showcase your products in a contact-free, COVID-friendly way
If you're a small-to-medium-sized retail business, using a Matterport tour can be a great way to show your product collections in a virtual tour. Better yet, you can add informative product descriptions using Mattertags (we'll get to those in the next part of this post!)
Provide an estimate of store spacing and entrances
This has multiple bonuses. Not only can you highlight the social distancing capabilities of your store, but you can provide a rough estimate of dimensions for potential visitors who may have a physical disability and are wheelchair-bound. Oftentimes tight aisleways and crowding can be a deterrent to somebody who has to navigate life in a wheelchair. Being able to see the physical size of a store can be a great relief. 
The one-time cost investment is minimal
Matterport tours for retail businesses are extremely cost-effective. While our Matterport virtual tour pricing varies by each location, a 1,000 sq ft business can have a Matterport tour done for as little as $159.00. For a full list of Matterport 3D tour pricing at any of our franchises throughout Canada, visit our Locations page. 
The Matterport tour is a one-time purchase, and after we measure, photograph, and create the tour for you, you're free to use it whenever you'd like. Social media, email campaigns, you can even embed QR codes onto print marketing materials. The world is your oyster!
What Are Mattertags and How Do I Use Them?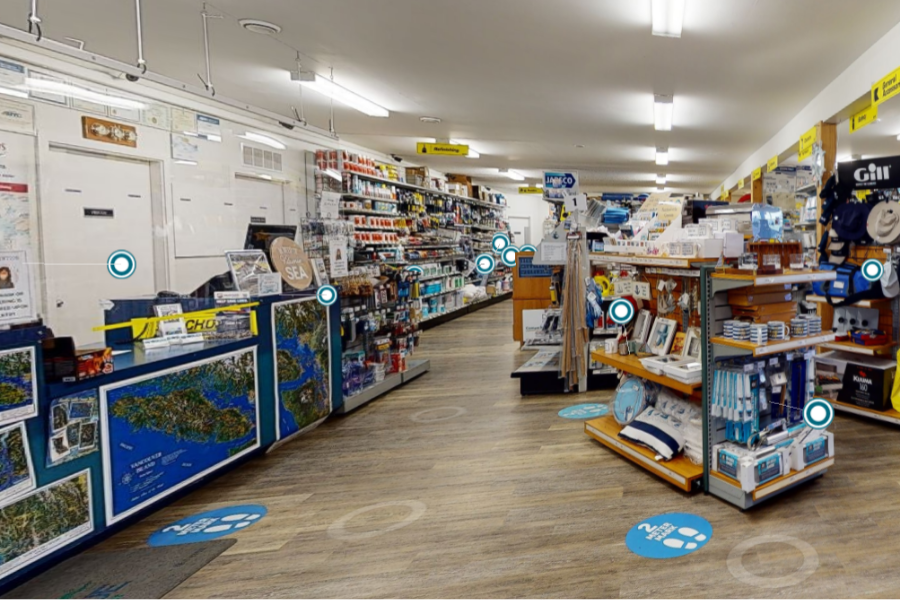 Let's take a look at the two visible elements in this image, the navigation circles, and the Mattertags.
Navigation circles:
The navigation circles on the ground act as 'steps' throughout the tour. When navigating a 3D Matterport retail business tour, you have two options. You can use your mouse to click to move to the next step, and to scan the 360 views around you by clicking and dragging. Or, you can use the arrow keys for a more flawless experience. 
Mattertags:
The smaller blue and white circles located on the shelves and near products are the Mattertags. When hovering over a Mattertag, the information of your choice pops up. You can add product information, embed YouTube videos, contact information, or anything you want to include . Using Mattertags brings great https://thespainjournal.com/situs-judi-slot-terbaik-dan-terpercaya-no-1/ value to your retail business by providing contact-free product information to a potential customer taking the virtual tour. This way, they can quickly zip in and out of your retail business, already having all of the information they need!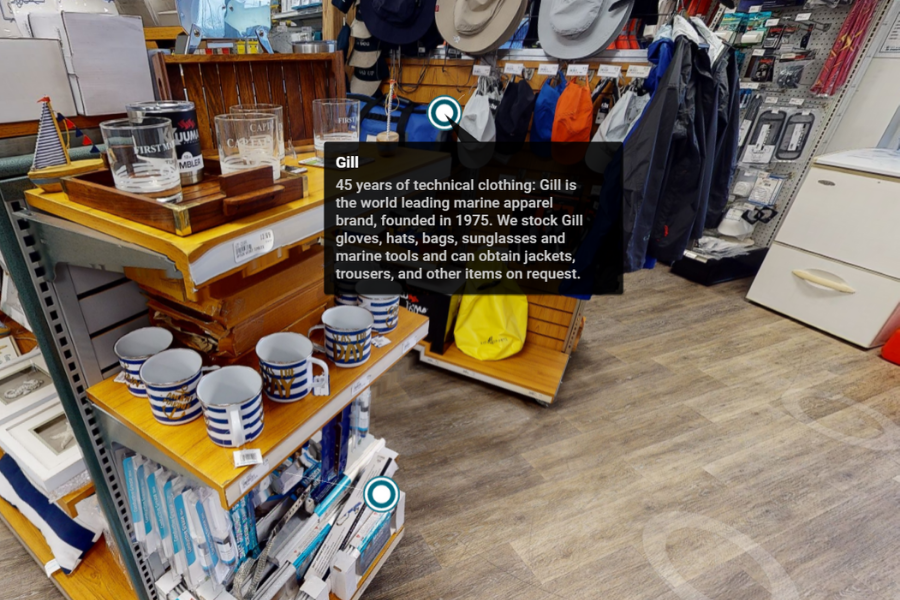 Pro tip: Does your business also have an e-commerce platform? Add a hyperlink to your Mattertag so the item can be purchased online!
Matterport has put out a complete guide to adding Mattertags to your Matterport tours, whether you're showcasing a retail business or a real estate listing. 
How Many Retail Businesses Use Matterport?
Despite its rampant availability and surging popularity in real estate, very few retail businesses have chosen to use Matterport. Matterport for retail businesses is a brand new and untapped market with the opportunity to get in on the 'ground floor' of this technology application. However, when surveyed, up to 73% of respondents preferred to shop online with a 3D Matterport tour of the retail business. 
The flipside argument is the joy of discovery of new products when walking through a store. We all know the joy of going into a business for one thing, and walking out with multiple purchases (although our wallets may not share this joy). With an immersive and knowledgeable Matterport tour using Mattertags, you can give your customers that digital experience. 
Enjoy This Retail Business Matterport Tour
Our Proper Measure Mid Island team recently did a Matterport tour of a Vancouver Island retail business, Stones Boatyard. Watch the video below for a preview of the Matterport tour, or click here to take the virtual tour for yourself!
Add a Matterport Tour to Your Retail Business
Contact us today. With locations all across Canada, Proper Measure is the leading floor plan and Matterport experts. If you're interested in taking the next step in increasing your retail business traffic and sales with a Matterport tour, contact us today.